Staka has long-standing working relationships with construction and roofing companies. Why do they choose to work with Staka?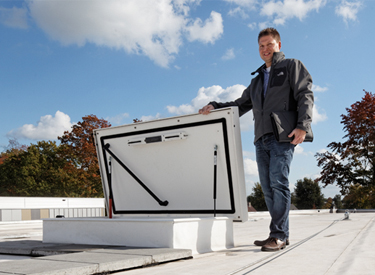 'Where roof access hatches are concerned, I choose Staka because of their service, competitive prices, and prompt delivery.'
Planning engineer at a Construction company.

Price
Staka's arrival within the construction sector has shaken up the market for roof access hatches. Through optimization of the production process for maximum efficiency, low production costs are achieved while producing a product that has the highest thermal insulation value and other quality specifications such as maximum load and structural strength. In addition, the product has a sleek design and attention to detail in its finish.
Convenience
Whether you are a planning engineer, a cost estimator, a work foreman, a project leader, or a purchaser, working with Staka will help you work more efficiently. By making use of the roof access hatch configurator, you will see a complete quote on your screen within one minute. You can then download this quote as a PDF or place the order straight away online. The relevant documentation, drawings, CAD drawings, and installation instructions are provided immediately. If you work with 12Build, no problem! We will upload the quotes directly to your online environment.
Contact and accessibility
Almost everything can be taken care of via the website, but you can always contact Staka if you have any questions. You can make direct contact with an adviser with a wealth of knowledge about our products via e-mail, online chat, or telephone. And despite the fact that many products are standardized, you can also come to us with your special requests.