Installing a roof terrace
With living space at a premium, it is no surprise that there are more and more roof terraces in densely populated urban areas. Roof terraces increase the amount of living space, the comfort of your home, and the value of your property. We are more than happy to help you explore the various options for a roof terrace.
Load-bearing capacity of the roof construction
Testing whether the roof is strong enough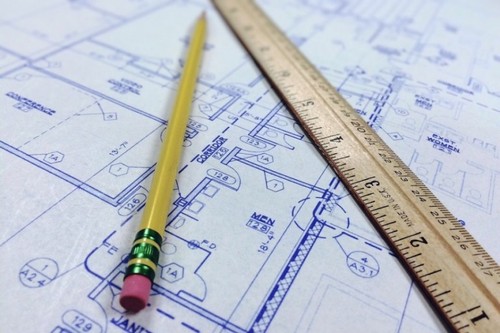 in its current form We recommend that you have a structural engineer calculate the roof's load-bearing capacity. You should also seek advice on the load-bearing capacity required to accommodate the intended use. When seeking advice, remember to consider how many people will use the roof terrace and how you would like to furnish it. As a rule of thumb, you can apply a load-bearing capacity starting at 250 kg per square metre.
A roof with a limited load-bearing capacity does not mean game over. You can install a roof terrace on virtually any roof with a flat surface. However, as installing a roof terrace may require some investments (especially if the roof construction needs to be strengthened), it is useful to know that you can minimize the load by choosing light-weight outdoor furniture and flooring.
Access to the roof terrace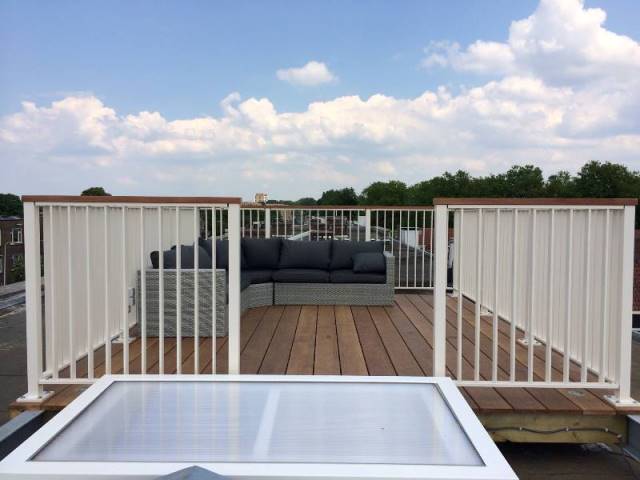 Of course, you will need a means of accessing the flat roof. If you have enough square metres to play with and sufficient financial scope, you may consider installing a stairwell. However, a roof access hatch is the most suitable option for the majority of roof terraces, as it is a much less obtrusive means of accessing the roof and takes up less space.
Do you want a price indication of a glazed roof hatch? Request your quote within 1 minute.
Your roof terrace is a place to relax for you as well as your guests. We recommend that you go for a roof access hatch with fixed stairs. If you have your roof terrace designed by an architect, he or she will include this access point in the design. You can also contact a stairs supplier, who will measure, design, and construct the fixed stairs.
The ideal location for this staircase is on the landing or in an office, so that you avoid obstructing access to and from your bedroom. If you know where you would like the stairs to be located, you already know where the roof access hatch will be placed and can therefore elaborate on the drawings for the roof terrace.
We have developed a beautiful glass roof access hatch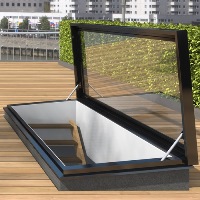 especially for roof terraces – the Staka TopLight. The appearance of this roof access hatch is not the only difference between the other roof access hatches in our line of products. Each aspect has been designed to accommodate the intended use. For instance, the roof access hatch has an easy-to-use electronic opening system. It also offers a generous opening and has high noise and heat insulation values. All in all, you will be able to enjoy an inviting, spacious, and safe means of accessing your roof terrace.
Installing a low-maintenance roof terrace
If you are about to install your dream roof terrace, make sure to focus not only on its appearance but also on the degree of maintenance required for the materials you choose. For instance, in bad weather, you are not likely to want to go on the roof terrace. On the other hand, you will want to have your roof terrace ready for when it is nice weather for sitting outdoors. In light of this, we recommend that you choose high-quality materials and go for a simple and open roof terrace design, especially if the terrace covers a large area. This will save you time with sweeping up, oiling, or doing other odd jobs.
A roof terrace differs very little from a garden patio in terms of furnishings. You could choose to use the same materials, such as wood, composite, or paving stones. If you need to keep the weight low, the best materials to choose are hardwood, which creates a cosy atmosphere for your roof terrace, or composite, which requires little maintenance.
You can prevent leaks by installing a suspended terrace construction. This means that the floorboards are not laid directly on the watertight roofing material but on the corresponding beams that rest on the bearing wall. A suspended construction helps to prevent leaks and gives the roof terrace a high load-bearing capacity.
Requesting a permit for your roof terrace
You will need to be in possession of an integrated environmental permit before installing a roof terrace in an urban environment. If you are at the stage of turning your plans into reality, make sure to first check the website of your municipality for information on the permit application procedure.
In some cases, however, you will need more than an integrated environmental permit. This may be needed if you live in a listed building, are part of an owners' association (vereniging van eigenaren, VVE), or if the construction of your roof terrace will have an impact on your neighbours in terms of the views from their property and the amount of sun their property receives.
Advantages of Staka TopLight
Attractive and inviting
High-quality materials
Low-maintenance construction
References