Roof door
A roof door provides safe access to flat roofs. The roof access doors from are insulated, powder coated as standard and come with a cylinder lock.
A roof door offers a safe and reliable entry to a flat roof. Roof hatch door from Staka is designed to create a safe entry to a flat, and slightly sloping roof (up to 40 degrees), for inspection and maintenance of the roof and installations that are placed on the roof. Staka's roof doors are manufactured out of stainless steel or aluminium and are powdercoated as standard.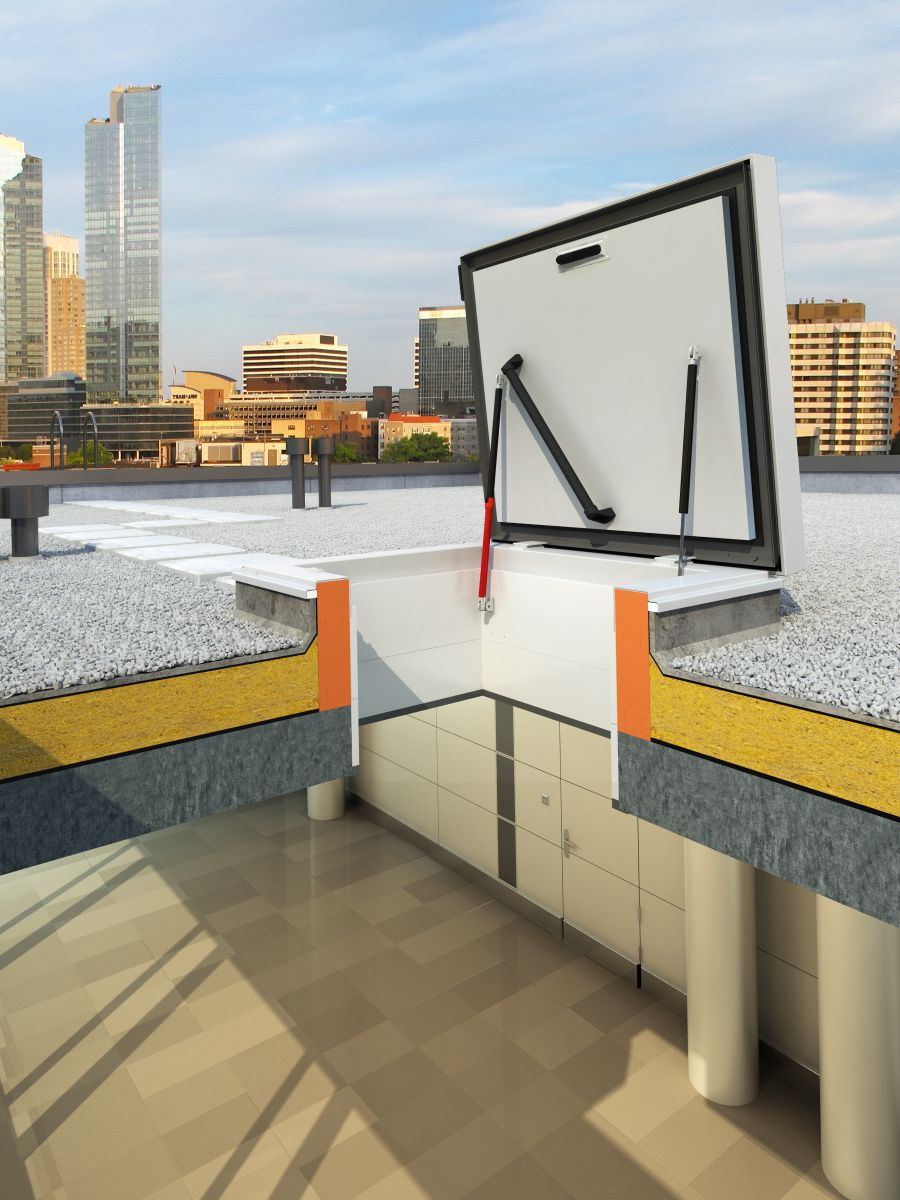 Roof doors for flat roofs
A roof access door makes the flat roof accessible for maintenance purposes. Is the roof used as a roof top terrace or any other similar purpose? Then staka has stylish fully glazed roof access doors. The roof door will then be fitted with a fully glazed cover and electrical operation. The glass window of the roof door is available in either UltraGlass or CoolGlass. A roof door with CoolGlass is exceptional because of the electrically operated switchable glass. This can be automatic so that when the sunlight is giving a lot of heat through the window, it will automatically switch to be darker. The effect is that the roof door lets less sunlight through and the result is an optimum working and living climate during the summer.

Installing roof access doors
A roof access door from Staka is constructed and delivered as a completely finished product, ready to install. The flat roof door comes with the insulated upstand, ensuring the least amount of installation time. This reduction in on-site installation guarantees lower costs and content workers. The roof door is placed on top of the unfinished roof. The roof insulation is then placed against the upstand of the roof access door, after which the roofing membrane is placed to make it water tight.

Quality of roof doors
A Staka roof door is manufactured out of high quality materials such as stainless steel. Staka backs it claims up with a ten year warranty on all flat roof doors. The roof doors have excellent thermal insulation values, are burglary resistant and easy to install. A Staka roof door is available with fixed stairs or a retractable ladder for a complete doorway to the flat roof. All stairs and adders comply with the highest international standards and are delivered throughout Britain and Europe. Go to the roof door configurator to get a ful quote instantlly, compete with all the relevant CAD drawings and NBS specs.