Roof hatch ladders
Roof hatch ladders from Staka offer a complete roof access system. The hatch ladders comply with the highest standards.
Staka offers a complete line of roof hatch ladders to integrate with hatches for the roof. Roof hatch adders come in different types and sizes. The most common for new buid is the retractable ladder because it is fully integrated with the roof hatch and therefore easy to install and almost invisble when in retracted position.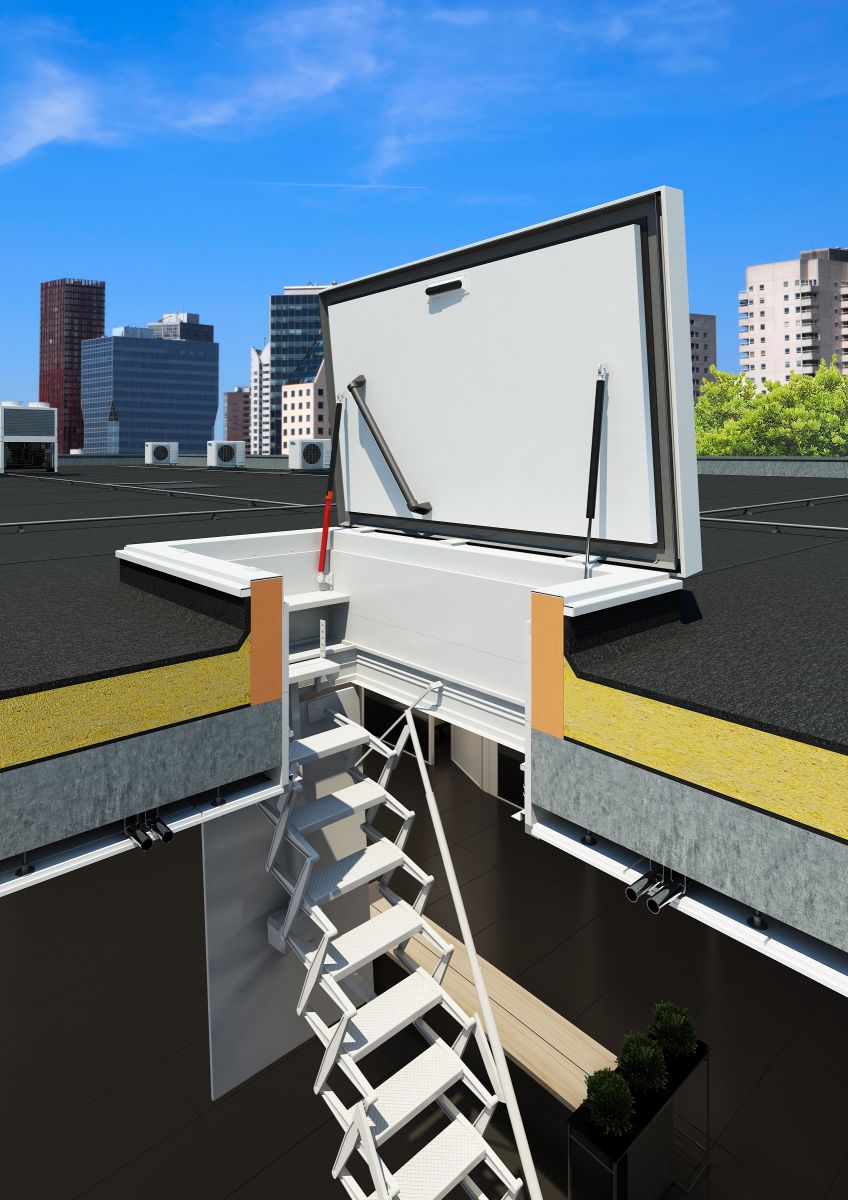 Roof hatch ladder with extension
A roof hatch ladder that used a lot for access to the roof hatch on the flat roof is an extension ladder. This roof hatch ladder is fitted with two hooks at the ends of the ladder beams to hook over a step that is mounted in the upstand of the hatch. This hook-over step is used as the final step in between the last step of the extension ladder and the roof. The roof hatch ladder is available as a 2-part or 3-part extension ladder, with the 3-part ladders being used for when the distance between floor and roof is longer than usual.

Roof hatch ladder retractable
Roof hatch ladders that are retractable are the best choice for rooms with a lowered ceiling or rooms without a lowered ceiling but a ceiling height not higher than 3250 mm. These roof hatch ladders comply with the BS EN 14975.
Retractable roof hatch ladder options
The retractable ladders are also available with electric control. At the push of a button on the remote control the hatch ladder extends all the way to the ground. This means you no longer need an operating stick. The retractable roof hatch ladders are avaiabe for roof hatches with a clear dimension of either 900x700 or 1400x700 mm. This offers a safe and space-saving solution because the ladders stores itself in the space between the ceiling and roof.
Fixed roof hatch ladders
For permanent means of access to the roof, a roof hatch with fixed roof hatch ladder is the best solution. When the distance to the roof hatch is 3 meters or more a cage is required. Therefore caged ladders are primarily used in high-ceiling areas such as warehouses, production halls, and sports centres. The roof hatch ladders are always bespoke and are therefore suitable for any height and practically any type of roof hatch.